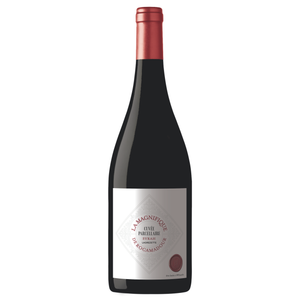 Merveilles Syrah comes from our Rocamadour vineyard. This terroir is ideal for the cultivation of Syrah with a clay-limestone soil which allows us to keep freshness; warm temperatures during the day but with cool nights to ensure the good maturity of the grapes while preserving the aromatic potential of the Syrah. Numerous operations in green leaf stripping and green harvesting allow us to obtain yields of around 35 Hl / Ha./Ha.
Tasting
Dark color, deep red.
Expressive nose, on sour cherry, pepper with hints of vanilla.
On the palate, beautiful alchemy between red fruits and hints of spices.
Wide and elegant structure.
Tasting
Dark red color.
Intense nose of cherry, vanilla, pepper and spices.
In the mouth, pepper, spices, red fruits.
Elegant and round structure.
Food & wine pairings
Pairings: tapas, barbecue, white meat, poultry, cheese.
Storage: in the cellar, at 16 ° C for a maximum humidity of 85%.
Aging potential: up to 7 years.
Tasting: serve between 16 and 18 ° C. Decant beyond 4 years of aging. Can be tasted young (open 1 hour before tasting).
Vinification and aging
Harvest: harvest and sorting by hand.
Blend: 100% Syrah.
Type of soil: Rocamadour vineyard, clay-limestone soil, hot days and cool nights.
Consultant oenologist: Michel Rolland.
Vinification: Cold maceration (8 ° C for 7 days, Alcoholic fermentation (26 ° C), Final hot maceration (28 ° C)
Aging: malolactic fermentation of 9 months in barrels of two wines.
Average annual production: 5,200 bottles.
You may also like
Chevalier du Château Lagrézette

Regular price

17,00 € a bottle
204,00 € case of 6 bottles 0.75l

Sale price

17,00 € a bottle
204,00 € case of 6 bottles 0.75l

Cuvée Marguerite

Regular price

24,83 € a bottle
149,00 € case of 6 bottles 0.75l

Sale price

24,83 € a bottle
149,00 € 228,00 € case of 6 bottles 0.75l